As the sun sets over Perth's northern beaches, a different kind of excitement emerges. It's a scene where foodies and locals gather, and the tantalizing aroma of street food fills the air. Welcome to the world of Perth's Northern Beach Night Markets and Food Trucks – a culinary experience that's all about flavour and fun.
We'll get straight to the point as we dive into the heart of these night markets, introducing you to the diverse culinary scene that thrives along the Sunset Coast. From sizzling skewers to mouthwatering burgers, these food trucks offer a taste of both local and international cuisine, promising a delightful evening of gastronomic exploration.
So, let's skip the frills and head straight to the delicious details of what makes Perth's northern beaches a food lover's paradise after dark.
Scarborough Sunset Markets
Known for its gorgeous views, glorious beach and buzzing vibes, Scarborough is the perfect place to perch up on a warm Thursday night with mates, yummy eats and a thirst-quenching bev in hand, listening to live music, watching the captivating sunset and embracing all that makes Scarborough truly special.⁠
This season is looking to be bigger and better than ever before, with over 100 foodies and artisan retailers coming together at Scarborough Beach! Expect Thursday nights jam-packed with incredible live music, mouth-watering feeds, unique artisan retail gems, dance-inspired experiences from around the globe, long table dining settings on the beach and so much more. Don't forget those iconic Scarborough sunsets that take your breath away!
Where: Scarborough Square & ClockTower
When: Every Thursday, 5 – 9pm November to April
Kingsway Community Markets
The Kingsway Community farmers market is always buzzing in the beautiful park area next to Olympic Kingsway Sports Club – Bellerive Blvd, Madeley
Monthly themed events
Where: Park area next to Olympic Kingsway Sports Club – Bellerive Blvd, Madeley
When: Every Saturday morning 8am – 12pm, year-round, rain hail or shine.
Sorrento Night Market
It is a beautiful night at Seacrest Park during summer, with the sea breeze, live music & delicious food options.
You will find Food trucks, dessert vendors, gift stalls and live music at Seacrest Park every Friday night from 4.30 – 8.30pm.
Different Food Trucks every week with cuisines from all around the world plus delicious desserts too!
BYO picnic rugs.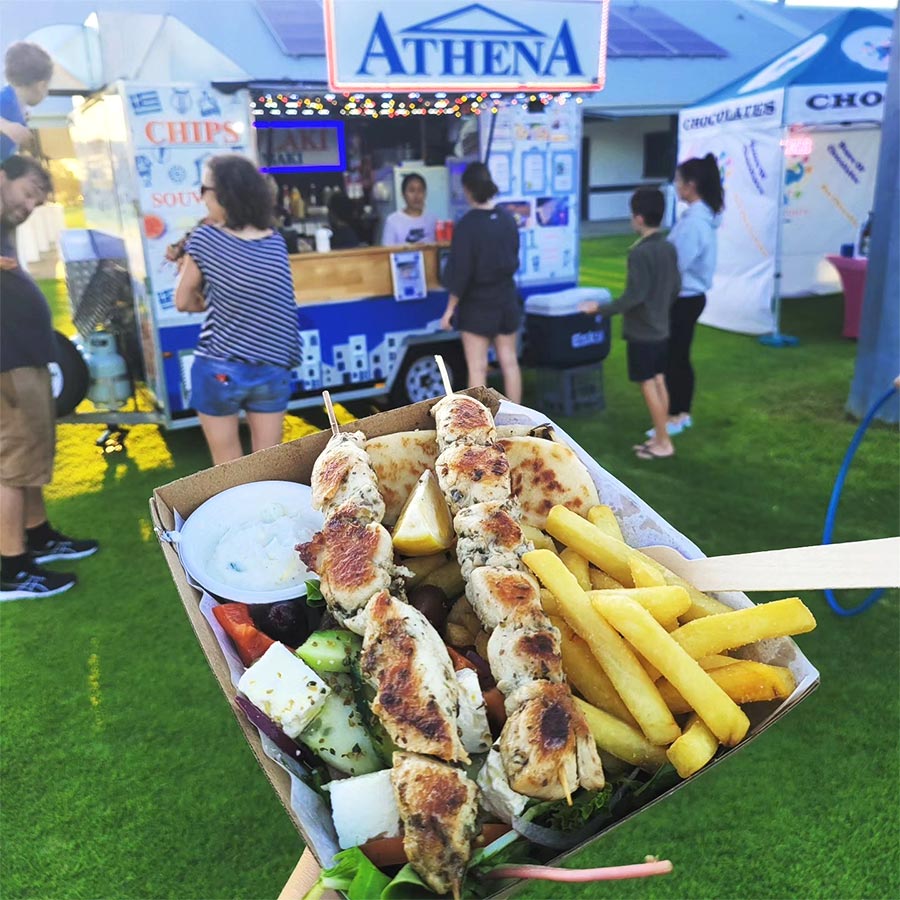 Where: Seacrest Park, Sorrento
When: Friday Nights, weekly  4.30 – 8.30pm from 15 September 2023 – 31 May 2024
Hillarys Community Market
The best fruit & veg every Sunday by The Peoples Produce.
Fresh Produce, Breakfast, Coffee, Gift stalls, Gourmet Food, Live Music
Where: Hillarys Marina Lake Park, Northside Drive, Hillarys
When: Starting on 5 November, 8am – 12pm – Every Sunday Morning
Markets by the Sea
Markets by the Sea was described as one of "Perth's Best Markets" after launching in 2017 and with huge demand, the event organisers are bringing it back to the people of Perth bigger and better, with additional vendors and extra excitement! The unique location sets it apart from other markets around Perth and with its stunning beachside venue in the northern suburbs, this event is destined to shine. This is no ordinary market, this is a must-do summer experience for Perth.
Where – North Shore Community Hub, Kallaroo
When – Sunday 8th October 2023 – 10am-3pm, Sunday 12th November 2023 – 10am-3pm, Sunday 10th December 2023 – 10am-3pm, NIGHT MARKET: Saturday 16th December 2023 – 4pm-8pm, Sunday 11th February 2024 – 10am-3pm
NIGHT MARKET: Saturday 24th February 2024 – 4pm-8pm
Sunday 10th March 2024 – 10am-3pm
Credit – Featured image courtesy of Scarborough Sunset Markets Facebook page